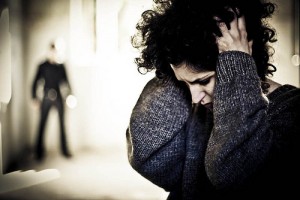 Panic Attacks typically begin suddenly and without warning. They can strike at almost any time — when you're driving the car, at the movie theater, sound asleep or in the middle of a business meeting.
Panic attacks have many variations, but symptoms usually peak within 10 minutes. You may feel fatigued and worn out after a panic attack subsides.
Symptoms of a Panic Attack typically include:
Irregular heartbeat
Dizziness and lightheadedness
Shortness of breath
Choking sensations and nausea
Shaking and sweating
Fatigue and weakness
Chest pain and heartburn
Muscle spasms
Hot flashes or sudden chills
Tingling sensations in your extremities
A fear that you're going crazy
A fear that you might die or be seriously ill
One of the worst things about panic attacks is the intense fear that you'll have another one. You may fear having a panic attack so much that you avoid situations where they may occur. You may even feel unable to leave your home (agoraphobia) because no place feels safe.
Visits to the emergency room and desperate late night phone calls to doctors often result, as do test results that often reveal nothing. If you've ever had a panic attack, you can probably empathize with the frustration and hopelessness of not knowing exactly what happened.  To start feeling in control of your anxiety, make an appointment with your doctor and get a full physical exam. This will help you focus your approach, as you'll find out for certain that you're coping with panic attacks and not some other illness. A clean bill of health can also help alleviate irrational fears of dying and doom, which can surface during a panic attack.
When you are in the grip of an anxiety attack it can feel as though there is no relief, that you are being crippled by your disorder and your control over the situation is spiraling away. It does not have to be this way, with these simple tips on how to stop anxiety attacks you can regain control over your disorder simply and effectively. The regular use of this approach will go a long way towards your goal of overcoming panic attacks.
10 Tips for Overcoming a Panic Attack
1.  Acknowledge and Accept
Acknowledge that at this moment you are afraid, but not in danger.  Feeling that you are in danger is just another symptom of a panic attack, but it's not real.  Then, accept the fear you are experiencing without trying to fight it or resist it.  The more one resists the panic, the worst it gets.  Remind yourself, that you are already experiencing the worst it will be; you just have to ride it out.
2. Talk to Yourself
Firmly tell yourself that your symptoms are nothing more than an over-sensitized nervous system. They are temporary feelings and are not medically harmful or dangerous.
3.  Learn to Control your Breathing
When we are anxious, our breathing becomes quick and shallow.  When we are relaxed, we breathe slowly and deeply.  As the panic kicks in, hyperventilation is triggered and the shallow, quick breaths are likely to increase the feelings of anxiety. The key is to concentrate on regulating your breathing into deep, slow breaths because not only is it more beneficial for oxygen intake and calming you; it means you are no longer focusing on the panic. Learn the deep breathing (diaphragmatic breathing) technique:  inhale though your nose, hold the breath to the count of 3 and then slowly exhale though your mouth.
4. Stop Running
If you panic in a supermarket and flee the scene, then your panic response will conclude that the supermarket holds life-threatening danger because you ran away from it. It Your mind will try to be 'more helpful' by spreading the fear to perhaps all supermarkets or even all situations that have lots of people in them, are dangerous, which could increase the avoidance response.
If you panic but stay in the situation until you calm down, your panic response will learn that it's not the situation causing the panic. The more 'normal' you act, the more your mind gets the message that the panic is not needed.
5.  Destruct yourself with a Mentally Challenging Task
During times when panic is really required (a hungry, fractious lion coming right at you), the thinking part of the brain becomes much less active. This happens because we need to become purely physical – to flight or to fight.
But if you purposefully start counting backwards from one hundred in jumps of three – '100, 97, 94, 91…etc.' – you force your thinking brain to work, which actually dilutes the panic response. Making yourself do a crossword puzzle, play a game on your phone or read the paper – all force your 'thinking brain' to work, which, again, sends the message: "This is not a real emergency; no panic is needed!"
6. Change your Lifestyle
Engage in regular physical exercise – this helps to burn off excessive adrenaline. Avoid cigarettes and alcohol. Eat regular meals and avoid processed foods and drinks, to keep blood sugar levels stable.
7. Focus outside of yourself during an attack.
Listen to some music or do a pleasurable task while waiting for the panic to subside.  Going for a walk could provide a change of scenery and a feeling that you are doing something to help yourself be in control.
8. Reduce your Exposure to Unnecessary Stress.
Learn how to express your needs to others and assert yourself. Learn to delegate tasks and manage your time.  Please see more strategies on how to reduce stress in my blog, 12 Success Strategies for Managing Stress and Living a Happier Life.
9. Don't bottle up your emotions.
Find someone to confide in, such as a family member, friend or a counselor. Being able to express your feelings and have Supportive Relationships will help reduce panic attacks.
10. Laugh.
Watch some funny videos on YouTube. Laughter and anxiety cannot live in the same moment together!
If you would like help with anxiety or panic attacks, please call me, Dr. Maya, on (818) 809-9519 for a free 10-minute phone consultation.

photo credit: Funky64